LOPSIDED WORLD OF L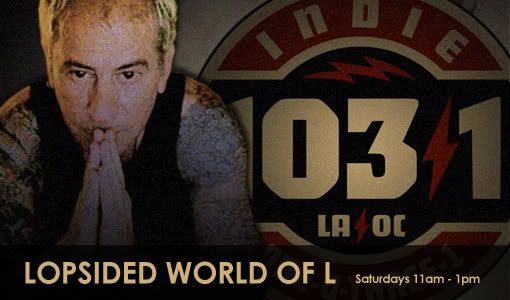 NEWEST SHOW ALWAYS DEBUTS
SATURDAYS ON INDIE 1031.COM


11 am Pacific-1 pm Central
2pm Eastern
7 pm U.K.- 8 pm Central Europe
CLICK HERE TO LISTEN TO INDIE 1031.com
Powered by you listeners
JONATHAN L'S LOPSIDED WORLD OF L

#1 TIME SPENT LISTENING ON THE INTERNET
NOT THE QUANITY OF STATIONS-IT'S THE QUALITY!
SHOWS ARE HEARD 8 TIMES A WEEK
RADIO SHOW -NOTHING ELSE LIKE IT
MADE IN BERLIN, GERMANY AND BROADCAST
TO THE ENTIRE WORLD
LISTEN ANYWHERE IN THE WORLD
ON ALL THREE STATIONS

CLICK HERE TO LISTEN TO KING FM
Powered by you listeners


CLICK HERE TO LISTEN TO SOFAKINGRADIO
Powered by you listeners




PRIOR WEEKS SHOW RUNS SUNDAY'S on
GERMANY'S KING FM 20:00-22:00 CET (8-10 PM)
IN AMERICA-11 AM--1 PM PT -1-3 PM CT-2-4 PM ET
and RERUN TUESDAY & THURSDAY-SAME TIMES

THURSDAY, FRIDAY, SATURDAY, SUNDAY 10 PM PT SHOW
ON PHOENIX, ARIZONA'S SOFAKINGRADIO


Playing you music from artists you know and don't
for over 30 years on radio.

Playing you music from artists you know and don't for over 30 years on radio.

BRAND NEW SHOW THIS WEEKEND #45
SATURDAY MAY 28 INDIE 1031

SHOW #45

Mad Planet "I Want You"
Dawn Golden & Rosy Cross "Black Sun"
"Time To Listen" (interlude)
Geminus "Gone"
Bell X1 "Haloumi"
Zion I & The Grouch "Healing Of The Nation"
My Morning Jacket "Holdin On To Black Metal"
Fernthal "I Believe In Love" (2011 remix)
At Vance "Tokyo"
The Heavenly States "Berlin Wall"
The Rods "Rebels Highway"
The Stone Foxes "I'm A King Bee"
Epiphany "My Disguise"
Young Legionaire "Numbers"
Elbow "The Birds Reprise"
Elbow "Dear Friends"
Pleasantly Stroll Down Jonathan's Annoying Lane:
Human Sexual Response "What Does Sex Mean To Me" (1980)
"Kentucky Bourbon" (interlude)
Brian Robertson "Mail Box"
Flogging Molly "Revolution"
Chrissy Murderbot f/ Warrior Queen "Under Dress"
Holy Ghost "Wait And See"
KMFDM "Come On-Go Off"
Infectious Grooves "No Cover/2 Drink Minimum"
Infectious Grooves "The Immigrant Song"
"Robots" (interlude)
The Cars "Drag On Forever"
Mixmaster Mike "Intro" (interlude)
The Airbourne Toxic Event "Welcome To Your Wedding Day"
Michael Jeffries (Tower Of Power)
w/ daughter Nicole and son Mike J "Family Affair"
Kotadama "See You Tonight"
The Dead Snares "City Sparks"
Dawn Golden & Rosy Cross "On The Floor"
Anvil "Juggernaut Of Justice"
Wiz Khalifa "Get Your Shit"




SHOW # 44 CAN BE HEARD ON SOFA KING RADIO
THURSDAY-SUNDAY MAY 26, 27, 28, 29 at 10 PM Pacific (6 am U.K.--7 am Central Europe)

SHOW #44 CAN BE HEARD ON KINGFM
SUNDAY MAY 29 TUESDAY MAY 31 -THURSDAY JUNE 2
at 20:00 CET (11 AM Pacific)

SHOW #44

*SPECIAL EDITION-
LISTENER CHOICES FROM PAST 6 MONTHS

Egoboy "Stuck On You"
The Futureheads "Sun Goes Down"
Ed Kowalczyk "Grace"
Expatriate "Get Out, Give In"
Vall "Can I Be You"
ZPYZ "Dollar"
New York Dolls "Fabulous Rant"
New York Dolls "Kids Like You"
Wang Chung "Stargazing" (Pink Chung mix)
Sintetico Ministereo "Nervoso"
Friedel Hensch "Hallo" (interlude)
Backyard Loops "Kein Zuruck (Relationships Riddim)"
Fernthal "Believe In Love" (2011 new mix)
Grinderman "Mickey Mouse And The Goodbye Man"
Vayden "H.A.M."
Uffie "Pop The Glock"
Geminus "The Groove"
Turbo Weekend "Trouble Is" (Tiesto mix)
An Early Fall "Better Off"
Tripp Smythe "Watching The World"
Sick Of Sarah "Overexposure"
"Kissatude" (interlude)
Tyrone Marshall "Love Stance"
Skunk Annansie "Over The Love"
Van Christian "If You're Gonna Be Dumb, You'd Better Be Tough"
Boogie Company "God Is Dancing Jive"
Van Wolfen "Ich Glaube"
Pigeon John "The Bomb"
Reggie Watts "A Quick Story" (interlude)
Baked Jaeyk vs. Snoop Dogg "That Tree" (Baked-ass mix)
Kingdom Come "Blue Trees"
Scatomat "Happy Birthday"
Volbeat "A Warriors Call"