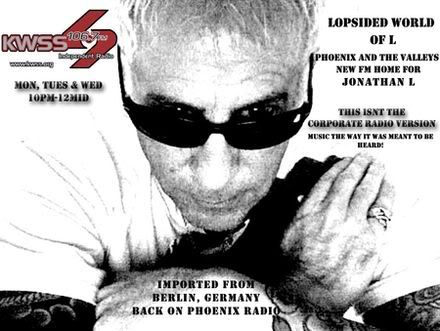 BACK ON the FM radio dial in Phoenix.
106.7 FM KWSS Monday, Tuesday, Wednesday nights 10 pm PT

Click pic for KWSS website
And continues on the THREE GREAT Internet Stations!
_________________________________________________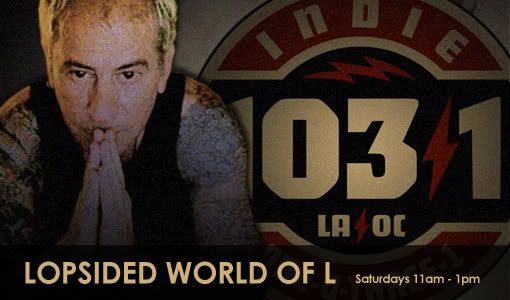 NEWEST SHOW ALWAYS DEBUTS
SATURDAYS ON INDIE 1031.COM LOS ANGELES, CA
11 am Pacific-1 pm Central- 2pm Eastern
7 pm U.K.- 8 pm Central Europe
**NOW ALSO MONDAY'S MIDNIGHT- 2 AM PT
and WEDNESDAY'S 10 PM-MIDNIGHT PT**
CLICK HERE TO LISTEN TO INDIE 1031 Powered by you listeners
CLICK HERE TO LISTEN TO KING FM Powered by you listeners
AND SUNDAY'S ON KINGFM.NET BERLIN, GERMANY
NOTE NEW TIMES! 22:00 -24:00
(10-Midnight in Central Europe)
(IN AMERICA 1 PM PT- 4 PM ET- 21:00 IN U.K.)
RERUN TUESDAYS & THURSDAYS -SAME TIMES
LISTEN TO JONATHAN L'S
LOPSIDED WORLD OF L
#1 TIME SPENT LISTENING SYNDICATED RADIO SHOW
ON THE NET
NOT THE QUANITY OF STATIONS--IT'S THE QUALITY!
SHOWS ARE NOW HEARD 9 TIMES A WEEK
YOUR RADIO BASTARD STEPCHILD
MADE IN BERLIN, GERMANY AND BROADCAST TO THE ENTIRE WORLD
LISTEN ANYWHERE IN THE WORLD ON ALL FOUR STATIONS
Playing you music from artists you know and don't
for over 30 years on radio.



BRAND NEW SHOW THIS WEEKEND #66




on INDIE1031 and KINGFM




SHOW #66 OCTOBER 22 (INDIE) OCTOBER 23 (KINGFM)



~~~~* Denotes new song first time aired~~~

*Light FM "Kill The Landlord"
*Pusha T f/ Kanye West & Jeezy "Amen"
*Annie Automatic "Don't Look Down"
*T.J. Miller "Balsa Wood"
*Megadeth "Never Dead"
*Black Box Revelation "High On A Wire"
*Mocean Worker f/Steven Bernstein "Shooby Shooby Do Yah!"
*Victorian Halls "Burn Me Up Like Wax-Kissed Letter"
*T.J. Miler "Fine Women's Garments"
*Greenhaven "Romeo Delight"
*We Barbarians "Chambray"
*Ladytron "Ambulances"
Stan Ridgway "Turn A Blind Eye"
*Jedi Mind Tricks "Target Practice"
*The Slot "Lego"
*Downtown Mystic "She Said, She Said"
*The Barbarellatones "Get Your Freak On"
*Eat The Gun "Three Six Five"
*Pack A.D. "Ride"
*Santah "Neighbors And Cousins"
*DJ Shadow f/Afrikan Boy "I'm Excited"
*Spirit Animal "I'm Around"
*Odoghan "Sail To The Moon"
*L.A. Guns "These Arms Of Mine" (live)
*Maren Parusel "Kiss You"
*Lovedrug "Pink Champagne"
*Rise "Venus And The Moon"
*T.J. Miller "Elbows"
*Childish Gambino "Bonfire"
*Patton Oswalt "The Stripper"
Bash The Band "Shut You Up"
*theendisthebeginning "Tropics"
T.J. Miller "Tender Hug"
*Donora "The Untouchables"
*Her Vanished Grace "See The Moon"

_____________________________________
SHOW # 65 CAN BE HEARD ON SOFA KING RADIO
THURSDAY-SUNDAY OCTOBER 20,21,22,23 at 10 PM Pacific
(6 am U.K.--7 am Central Europe)
*TAKE NOTE: SUNDAYS-show is now on twice.
11 am PT (7 PM U.K.-8 PM CET)
and 10 pm PT
PHOENIX, ARIZONA
CLICK HERE TO LISTEN TO SOFAKINGRADIO
Powered by you listeners
*Elephanz "Stereo"
*The Front Bottoms "The Boredom Is The Reason I Started
Swimming, It's Also The Reason I started Drinking"
*DJ Shadow f/ Tom Vek "Warning Call"
T.J. Miller "Ankle Fat (interlude)
*Lords Of Acid "Little Mighty Rabbit (Smell-O-Kitty mix)
*Soft Bullets "Posterity"
*Saxon "No Rest For The Wicked"
*The Barbarellatones f/ Nina Hagen "Nina Hagen"
*Blood Orange "Forget It"
*Manchester Sunrise "Walk On"
*Primus "Lee Van Cleef"
Grand Duchy "Silver Boys"
Penguin Prison "Don't F**k With My Money"
*Pop Will Eat Itself "Seek & Destroy"
*Evidence "You"
Super Geek League "Rage (Aspire Til I Expire)"
*T.J. Miller "Voicemail skit" (interlude)
*Annie Automatic "Burn This Prison"
*Cling "Twilight"
*Dangerous! "Not One Of You"
*We Were Promised Jetpacks "Medicine"
T.J. Miller "Battle Of The Century Pt. 2"
*L.A. Guns "Electric Gypsy" (acoustic live)
*Girl In A Coma "One Eyed Fool"
*Endless Shame "Halo"
Gang Green "I'll Worry About It Monday" (1997)
*Sarah Schuster "Deep Lakes"
Everlast "I Get By"
*Anthrax "I'm Alive"
*CSS "F**k Everything"
*The Ettes "My Heart"
*The Rapture "How Deep Is Your Love"